Archive items 2, 38, 59, 98, 100 in
Forbidden Siren
.
Content (No.2)
Edit
Misumi Daily Gazette
August 3rd 1976
Torrent and Land-slide Bring Disaster to Misumi District
48 homes have been flooded with a number of other buildings damaged in land-slides.
33 people have been reported missing but the chances of finding survivors looks bleak.
Content (No.38)
Edit
Misumi Daily Gazette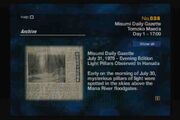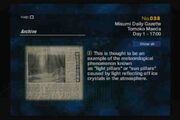 July 31st 1976 - Evening Edition
Light Pillars Observed in Hanuda
Early in the morning of the 30th, mysterious pillars of light were spotted in the skies around the Mana River floodgates.
This is thought to be an example of the meteorological phenomenon known as "light pillars" or "sun pillars" caused by light reflecting off ice crystals in the atmosphere.
Content (No.59)
Edit
Misumi Daily Gazette
July 7th, 1975 - Morning Edition.
Ground Near Former Air Defense Facilities Damaged By Rain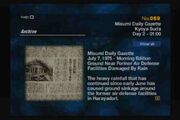 The heavy rainfall that has continued since early June has caused ground sinkage around the former air defense facilities in Harayadori.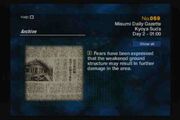 Fears have been expressed that the weakened ground structure may result in further damage in the area.
Content (No.98)
Edit
Misumi Daily Gazette
March 3rd 2002 - Morning Edition
Car Struck By Lightning, Bursts into Flames!
A car driving down route 333 was hit by lightening and set on fire yesterday. The driver, Haruo Yomoda (40) and his wife Hidemi (34) were killed in the accident.
Content (No.100)
Edit
Mizumi Daily Gazette
August 6th 2003 - Special Edition
'Landslide Survivor Found in Hanyuda - 10 Year-old Girl Rescued.
Late at night on August 2nd, Harumi Yomoda (10) was miraculously rescued after being buried in the landslide that occurred three days earlier.'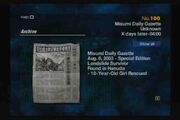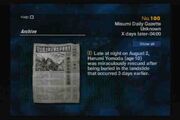 Ad blocker interference detected!
Wikia is a free-to-use site that makes money from advertising. We have a modified experience for viewers using ad blockers

Wikia is not accessible if you've made further modifications. Remove the custom ad blocker rule(s) and the page will load as expected.